Of course, the rolls in today's recipe aren't actually filled with Christmas, more likely with Christmas extract, with the joy of cooking with and for your loved ones, for the family. I have this recipe from Jutka, one of my co-workers from Irish&Music Pub. A couple of days ago she brought to work some of these tender and fragile wonders filled with walnuts. I had to eat four or five until I realized what they are and, naturally, I asked for the recipe. Below you have proof that you can do anything if you follow the recipes, even without having a model in front of you. I hope you'll enjoy them and that you'll have a wonderful Christmas, full of joys. I weighed the ingredients using my mother's old scale. I think it has my age. You can still see my letters and figures, but the ones of the scale have erased. Even so, I managed to find out that on the tray of the scale I had put exactly 300 grams of white, wheat flour.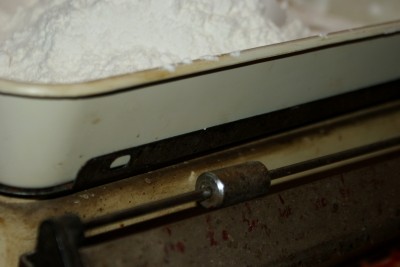 The butter must also weigh 300 grams (this quantity is usually found in a pack and a half of butter).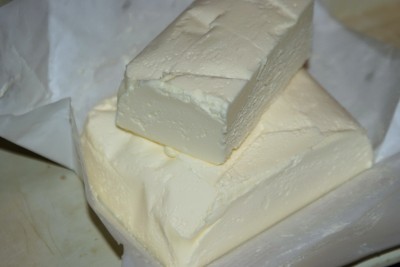 Walnuts, also 300 grams.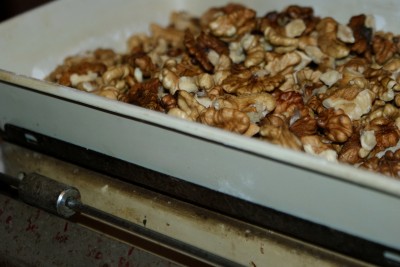 The walnut grinder is probably older than the scale but you can still count on it.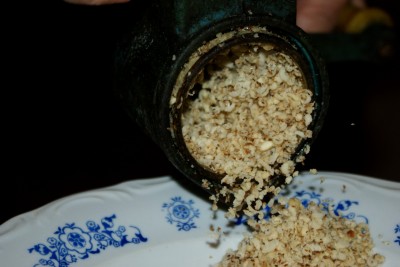 Apart from flour and butter, the dough needs 9 egg yolks (don't throw away the egg whites, you'll need them) and a pinch of salt.

Knead it for just five minutes, making sure the ingredients are mixed. The scratches are from Tito.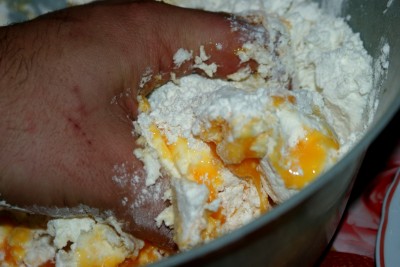 The result of this job is a sticky dough impossible to work with, which is why you leave it overnight (four or five hours suffice, but if you can leave them for one night it would be better) in the fridge.

The first operation of the following day (well, after taking the dough out of the fridge) is making the filling. First, whip a firm foam from 9 egg whites and 300 grams of sugar. Then, gently incorporate the walnuts.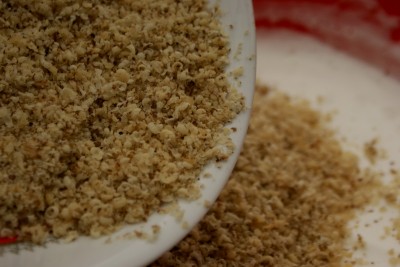 From the dough make 70-80 small balls.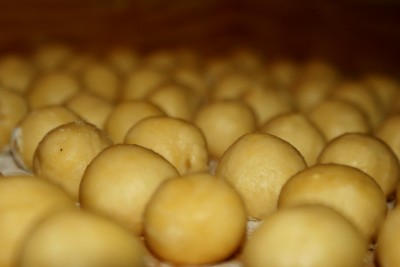 Spread each ball of dough into a very thin sheet.

On each sheet put a teaspoon of filling.

Seal the rolls by twisting the sheet around the filling and then the ends of the resulting roll.

I place the rolls on parchment paper, in a tray. Be careful during this procedure because if you place them to close to each other, they can stick, as they rise pretty much (actually it's the filling that is swelling).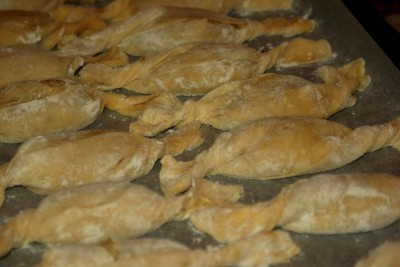 The rolls are baked in the pre-heated oven, at 180 degrees Celsius. Don't keep them in the oven more than 10 minutes.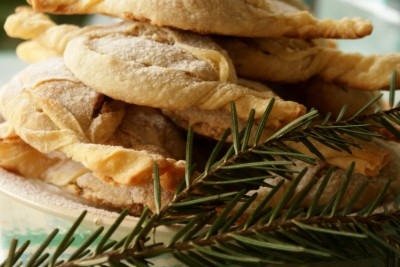 They turned out exactly as I wanted, fragile and tender, with the dough sheet thin like newspaper sheet and the filling sweet.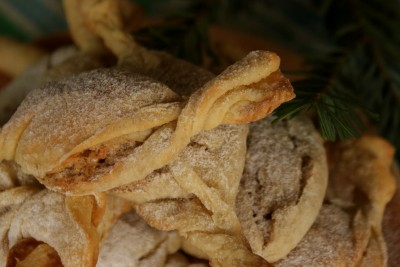 Thank you, Jutka :-) I wish you a merry Christmas.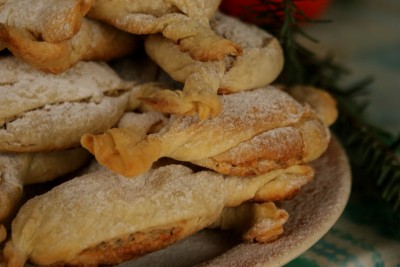 I wish all of you a merry Christmas. Stay healthy.

Special thanks to
Oana Bodnariuc, Authorized Translator
oana.bodnariuc@gmail.com
facebook.com/oana.bodnariuc